Amnesty International has expressed concern over the situation of unjustly imprisoned Iranian LGBT rights defender Sareh in a statement issued today and called for her immediate and unconditional release.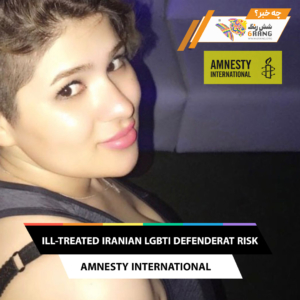 Prosecution authorities in Urumieh, West Azerbaijan province have accused Sareh of "spreading corruption on earth"through "promoting homosexuality", "communication with anti-Islamic Republic media channels", and "promoting Christianity." This charge is punishable by death.
Sareh was arrested by the agents of the intelligence organization of the Revolutionary Guards on 27 October 2021, while crossing the Iran-Turkey border. Following her arrest, she was subjected to severe interrogations for 53 days, accompanied by harassment, death threats, and insults directed against her identity and appearance.
6rang expressed concern about the commission of human rights violations against Sareh immediately after arrest, and has since tried to raise awareness about her unjust imprisonment, including by publishing a video message that Sareh had recorded before embarking on her journey from Iran to Turkey.
https://6rang.org/english/wp-content/uploads/2020/11/logo-6rang-en.png
0
0
Melika
https://6rang.org/english/wp-content/uploads/2020/11/logo-6rang-en.png
Melika
2022-01-25 20:03:03
2022-01-25 20:03:03
ILL-TREATED IRANIAN LGBTI DEFENDER AT RISK