The Islamic Revolutionary Guard Corps (IRCG) has arrested a Transgender person named Sareh in West Azerbaijan Province of Iran.
According to the information received by 6Rang, Sareh was arrested on 27 October 2021, while attempting to cross the border to Turkey.There has been no further news about her since then.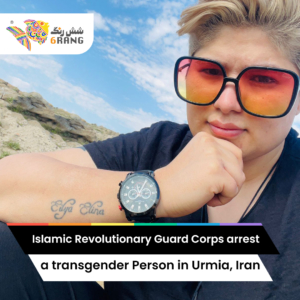 On 08 November 2021, Tasnim News Agency which is affiliated with security forces, reported that the IRGC had arrested individuals in West Azerbaijan on charges of "forming a gang for trafficking girls and supporting homosexuality", which may be related to Sareh's arrest.
According to the same report, the IRGC said in a statement that one of the charges against the so-called "smuggling network" was "communicating with and supporting homosexual groups" who "operated under the support of multi-regional intelligence services."
Who is Sareh ?
Sareh, 28, lived and worked in Iraqi Kurdistan. She was recently identified and detained for 21 days by the Iraqi Kurdistan police after her interview with BBC Persian about the situation of the  LGBTQ community in Iraqi Kurdistan.
After being released, Sareh had to cross the Iranian border to escape Iraqi Kurdistan and seek asylum in Turkey. Given the current situation and the risk of arrest while crossing the border, hours before leaving for Turkey, she made three short videos with great clarity and courage. She sent them to a trusted person who does not wish to be named. Sareh's intention in making these clips was making her voice heard by the media and human rights organizations in the event of her arrest.
These videos were then sent to 6Rang for publication in order to make the public aware of Sareh's situation The IRGC and other security organs in Iran has a record of detaining activists on fabricated charges. Acting in accordance with Sareh's wishes, 6Rang hopes the international LGBTI community and human rights organizations put the Islamic Republic of Iran under pressure to release Sareh immediately.
https://6rang.org/english/wp-content/uploads/2021/12/7.12.2021_dastgiri.jpg
1080
1080
Melika
https://6rang.org/english/wp-content/uploads/2020/11/logo-6rang-en.png
Melika
2021-12-08 19:44:01
2022-06-10 15:55:21
Islamic Revolutionary Guard Corps arrest a Transgender Person in Urmia, Iran.