Sareh, a 28-year-old Iranian transgender person, who was arrested by the Islamic Revolutionary Guards Corps (IRGC) over nine months ago while trying to leave Iran, is now facing the danger of an unjust criminal conviction.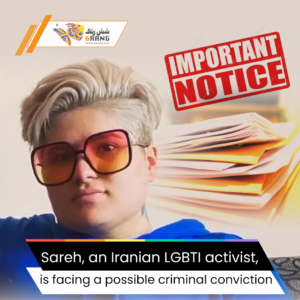 Sareh, born Zahra Sedighi-Hamadani, was arrested in Urumieh on October 27, 2021, as she tried to cross the Iranian border. She was accused of "illegally leaving the country" and "collaborating with hostile media", because of an interview she gave to BBC Persian about the living conditions of LGBTI people in Erbil, Iraq.
According to information provided to 6Rang (Iranian network of lesbians and transgender people) by a well-informed source, a criminal court has sentenced her to pay a fine of 5,300,000 tomans ($166 at market-rate exchange) for the charge of illegal border crossing. The court found her not guilty of the other charges, which included but were not limited to encouraging prostitution and moral corruption. 
Iran's judicial system, with its lack of transparency and unfair proceedings, and its criminalisation of the expression of issues relating to homosexuality, and  same-sex relationships, has practically cleared the field for the LGBTI community to be pressured, persecuted, and detained.
Branch 111 of the Urumieh Criminal Court acquitted her on the charges of encouraging people to commit morally corrupt acts, moral corruption, and depravity,  while thecharges relating to her activities in cyberspace were referred to the Revolutionary Court. Two courts cannot adjudicate the same case simultaneously . An appeals court upheld the verdict.
It bears noting that, according to the text of the court decision seen by 6Rang, participating in the trafficking of women and girls was not among the charges levelled against Sareh in court, and it appears that such a charge was not included in the indictment sent to the Revolutionary Court either. 
The Islamic Republic's intelligence apparatus has been disseminating false reports about Sareh recently, making her case appear much worse than it is. These reports accused Sareh of trafficking more than 1,000 Iranian women and girls and forcing them to engage in sex work, but did not provide any documentation or evidence.
After Sareh's arrest, the Islamic Republic's IRGC intelligence forces took control of Sareh's Telegram account. They changed her profile picture to send a threatening message to her followers and frighten them.
Human rights organisations such as Amnesty International have previously issued statements demanding Sareh's immediate and unconditional release.
On July 27th, more than 55 international organisations issued a statement demanding her immediate release. This is the first time an imprisoned member of the Iranian LGBTI community has received such global support.
https://6rang.org/english/wp-content/uploads/2022/08/5.8.2022_Sareh-en.jpg
1080
1080
Melika
https://6rang.org/english/wp-content/uploads/2020/11/logo-6rang-en.png
Melika
2022-08-06 12:52:48
2022-08-06 12:52:48
Sareh, an Iranian LGBTI activist, is facing a possible criminal conviction