Amnesty International has called for immediate action from its members around the world, asking them to demand the authorities of the Islamic Republic to release Zahra Sedighi-Hamadani, known as Sareh, an LGBTI rights activist.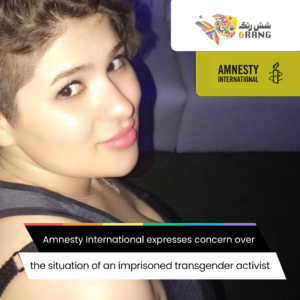 Zahra Sedighi-Hamadani, known as Sareh, is an Iranian gender nonconforming human rights defender arbitrarily detained in an Iranian prison.   Same sex relations in Iran is punishable by death and LGBTI activists are actively persecuted.
Amnesty International has urged all to co-sign a letter written to the authorities of the Islamic Republic, demanding basic rights for Sareh.
"I ask you to immediately and unconditionally release Zahra Sedighi-Hamadani as she is detained solely based on discriminatory reasons related to her real or perceived sexual orientation or gender identity and for the peaceful exercise of her human rights including rights to privacy and freedom of expression and association," the letter states.
Branch 6 of the Urumieh Revolutionary Court has accused Sareh of "spreading corruption on earth" including through "promoting homosexuality", "communication with anti-Islamic Republic media channels" and "promoting Christianity". These charges could result in a death sentence.
Sareh was arrested by IRGC intelligence agents on October 27, 2021, near the Iranian-Turkish border and was subjected to intense interrogations for 53 days, accompanied by verbal abuse, death threats, and insults directed at her identity and appearance.
"I further urge you to repeal laws which criminalize consensual same-sex sexual conduct and which ban clothing and other forms of gender expression that do not conform to strict binary gender "norms", and to adopt legislation to protect LGBTI people from discrimination, violence and other human rights violations," the Amnesty letter stated further, pointing to the gross ill-treatment of LGBTI people in Iran.
Immediately after confirming the news of Sareh's arrest, 6Rang released a video that she had recorded prior to her attempt to leave Iran.
https://6rang.org/english/wp-content/uploads/2022/05/19.5.2022_sare-en.jpg
1080
1080
Melika
https://6rang.org/english/wp-content/uploads/2020/11/logo-6rang-en.png
Melika
2022-01-25 11:05:32
2022-05-19 11:10:41
Amnesty International expresses concern over the situation of an imprisoned transgender activist