28 July 2022
In October 2021, an LGBTIQ+ rights activist Zahra Sedighi-Hamadani, also known as Sareh, was arrested by the Islamic Revolutionary Guards Corps (IRGC) in Iran while she was attempting to cross the border to seek asylum in Turkey. She was charged with crossing the border illegally, and targeted for participating in an interview with BBC Persian and speaking up on the situation of LGBTIQ+ persons in Erbil, Iraq.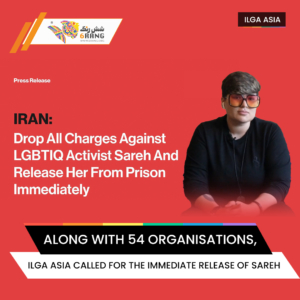 In a statement, the IRGC accused Sareh of: "Promoting homosexuality, gambling, fraud, and promoting illicit sexual relations and publishing them on the Internet." No evidence has been offered by the IRGC to substantiate these baseless accusations, nor has Sareh benefitted from any due process. Reports indicate that Sareh was coerced into confessing to these "crimes", potentially through acts of torture, including solitary confinement and threats that the State will take custody of her two children.
We expressly condemn the unjust and cruel arrest and detention of Sareh by the IRGC, and equally condemns the accusations of 'spreading corruption on earth,' including through 'promoting homosexuality'. We are critically aware and alarmed that these accusations can lead to a criminal conviction in Iran that could lead to capital punishment.
The risk that Sareh may be executed is real and therefore we call for all charges against Sareh to be dropped and for her immediate release from Urmia prison in Iran.
We reiterate this urgent message from 6Rang, the Iranian Lesbian and Transgender Network:
"It is clear to all of us that what has taken place is not due process, but a re-run of a show familiar to many of us who grew up in the suffocating atmosphere of the Islamic Republic. Sareh must be released immediately and unconditionally. We ask all human rights organizations and the media not to ignore Sareh's detention, and to work for her freedom."
In Solidarity,
6rang

75 SHOTS

All Out

Amerta Reksa Kayana

APCASO

Arus Pelangi

ASEAN SOGIE Caucus

Asia Pacific Transgender Network

Bisexual Alliance Victoria Inc

Blue Diamond Society

Cangkang Queer 

Capital Punishment Justice

CIVICUS

Creme de la Creme Nigeria 

Equal Asia Foundation

F2BM

Family Planning Association of Bangladesh (FPAB)

galck+

GAYa NUSANTARA Foundation

Green Papua community

GWL Maluku 

GWL-INA Indonesia 

HIV Justice Network

HIV Legal Network

Human Rights Campaign

ILGA Asia

ILGA World

International Planned Parenthood Federation (IPPF)

Inti Muda Indonesia

Journalist Association for Diversity

JTID

Karyadara

Koalisi Seni Indonesia

Kolektif Tanpa Nama

Komunitas Sehati Makassar 

Leto (learning together)

LGBT social movement "REVERS"

Maleo Central Sulawesi, Indonesia 

Mari Jeung Rebut Kembali 

Metropolitan Community Churches, Global Justice Institute

Namibia Diverse Women's Association (NDWA)

Narasi Toleransi Indonesia

QLC

Rainbow Railroad

Sahabat SulTeng

Sexual Rights Centre 

Srikandi Sejati Foundation Ijakarya Indonesia

St. Paul's Foundation for International Reconciliation

State University of Yogyakarta, Indonesia

Tarena

Tifa Foundation 

Trans proud

Transmen Indonesia

Yayasan Keadilan dan Perdamaian Indonesia

Yayasan Srikandi sejati

Youth Interfaith Forum on Sexuality (YIFoS Indonesia)
For enquiries, please email:
Ryan Ong, ILGA Asia Communications Officer at ryan@ilgaasia.org
Melika Zarr, 6Rang Media And Communications Manager at miki@6rang.org
https://6rang.org/english/wp-content/uploads/2022/07/28.7.2022_ilgaasia-en.jpg
1080
1080
Melika
https://6rang.org/english/wp-content/uploads/2020/11/logo-6rang-en.png
Melika
2022-07-28 14:49:46
2022-07-29 12:37:07
ALONG WITH 54 ORGANISATIONS, ILGA ASIA CALLED FOR THE IMMEDIATE RELEASE OF SAREH