This year, Academic Pride's seminar will have an international focus with the aim of raising the life situation of LGBTQ+ people in Iran and Russia. What rights do they have and what can the world's international solidarity and politics look like?
Participants are Shadi Amin, director of 6rang, Iranian Lesbian and Transgender Network, and Kirill Polkov from Södertörn University and doctoral student in gender studies.Academic Pride is a collaboration around Stockholm Pride between several of Stockholm's higher education institutions and associated student unions. The purpose is to make visible the importance of LGBTQIA + issues in higher education institutions, both in terms of research and teaching and in terms of inclusive work and study environments.
You can read full version of Shadi Amin's Speech below:
10 months ago, a 22 year old Iranian Kurdish woman, Jina MahsaAmini was forcibly taken to the custody by the morality police for not having a proper hijab and went to a coma a few hours later. Her death as a result of what happened to her in the hand of the morality police in those hours triggered the nation-wide Woman, Life, Freedom revolution.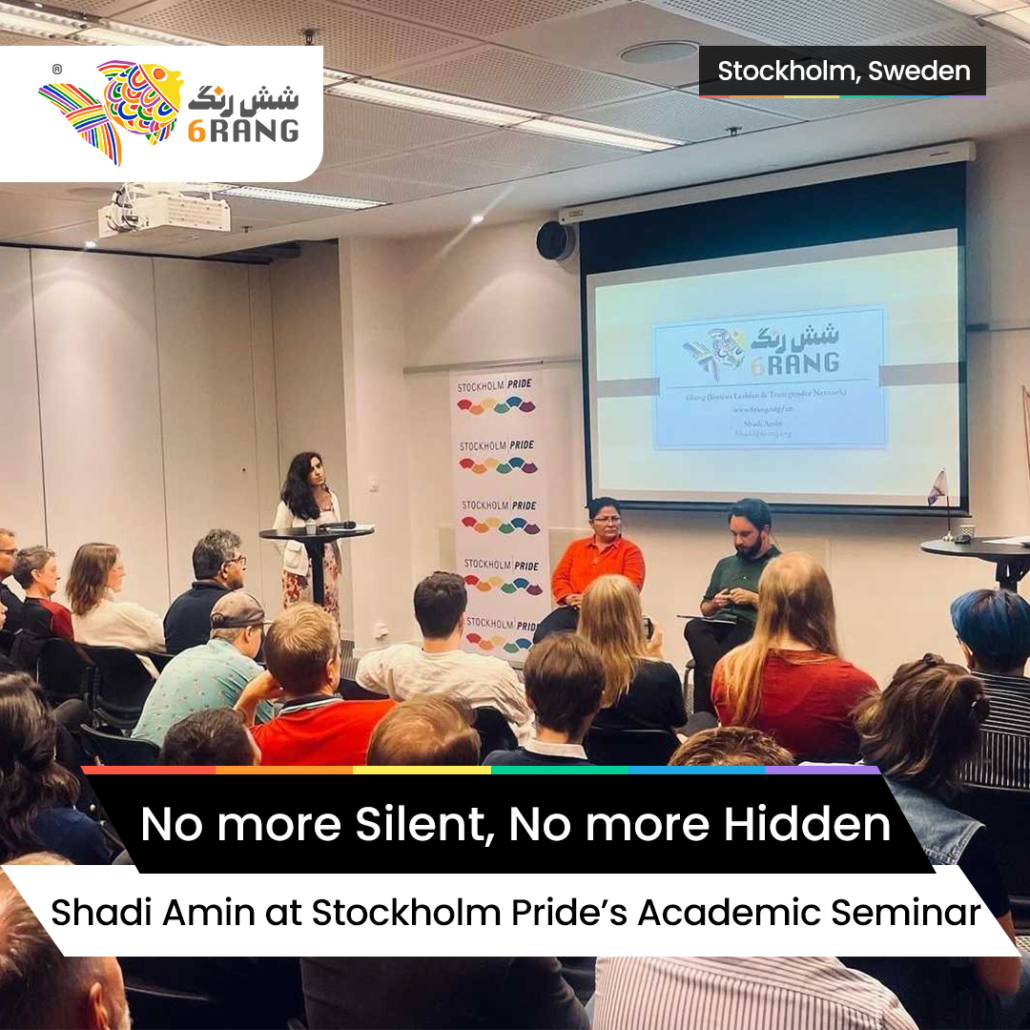 The world had witnessed the bravery of young revolutionary women as they boldly cut their hair, burn their scarves, demanding fundamental change in Iran. Many have been injured, arrested, tortured and killed. When I think of the revolution, and its symbol, 'woman, life, freedom' that is alongside 'queer, life, freedom', I realize that this time, the movement is far from what we had seen before in Iran.
The 'Women, Life, Freedom''(Jen, Jiyan, Azadi) revolution has been a turning point for the visibility of the LGBTI community in Iran. We witnessed how involved and active the young LGBTI members in Iran were in the revolution. From protesting on the streets, tagging walls with pro-LGBTI and pro-freedom slogans, to voicing their frustrations and anger about the LGBTI situation in Iran on online platforms. Numerous LGBTI members were arrested and killed during the revolution, including Nika, Sarina, Mehrshad, Hadis, and many others. We were able to recognize them as Queer persons due to their specific activism, sometimes their own admission on various platforms like Instagram or Telegram, and other times due to their close friends and loved ones. Unfortunately, the Iranian society never allowed the sexual orientation, stories and identities of these individuals to be accepted.
On October 22nd of 2022 we experienced a huge victory when we were finally, for the first time, able to have Melika Zarr, a young, lesbian woman from our organisation, 6Rang, speak on stage at the biggest protest of the Iranian opposition in Berlin, in front of over 100,000 Iranians to lay out the issues and demands of the LGBTI community. For a moment there, we thought we had finally become part of the revolution, that we had achieved to receive some recognition, respect and acceptance for our mere existence.
But we were proven wrong!
In November of 2022, I received the International Lesbian Visibility Award and decidcated in to Nika Shakarami and others who had sacrificed their lives in the ''Zan, Zendegi, Azadi'' revolution for freedom and equality for the LGBTI community and others. We were quickly reminded of how homophobic the Iranian society is when the Islamic Republic, its actors and regular people started attacking me online for turning their beloved hero into a lesbian. I was accused of defaming and soiling Nika's name and image, when in reality, it was them who only accepted Nika as long as she was a victim, but not as a loud, outspoken, strong, determined, queer fighter. It was disappointing to see how her identity, her story, her accomplishments and her love were denied.
The LGBTI community in Iran knows that under the Islamic Regime, they will never be able to live in peace, be safe, experience love. Knowing that does however motivate and inspire LGBTI members to push for change by actively participating in the protests and voice their anger and dissatisfaction. After the cyber attacks on me, 6Rang and Nika's identity, 6Rang received numerous wills from members of the LGBTI community in Iran, giving 6Rang permission to reveal their true identities, including their sexual orientations, or Gender identity, after their deaths, so that their families, friends and society couldn't deny them. These type of actions are in itself a form of political defiance. This proves how aware and committed the LGBTI community in Iran is to bring about change.
However, there groups, surprisingly inside the country, that have understood the importance of the inclusion of the lGBT+ demands. In February this year, 20 civil society groups and unions signed the Charter for Minimum Demands that drew outlined their views for the future Iran. The 4 is about the struggles of the LGBTI community and how to guarantee their rights as equal citizens.
It's an important achievement that we were able to push the discourse about LGBTI demands in the forefront of this revolution, but we still have a long way to go. The Islamic Regime already feels threatened, which is a good sign for us. They are taking note of our resistance and achievements, so they upped their hate campaigns against the LGBTI community and 6Rang by name. The IRI used fear-mongering tactics to accuse the whole revolution of having the sole goal of normalizing homosexuality. This, of course, frightened even those who believed in the revolution, but viewed LGBTI issues as a taboo. Timing of when and how to raise LGBTI issues became part of the conversation, with many claiming that ''now is not the right time''. But as we have seen in the past, in 1979 and after, the time is always right to demand freedom and equality for ALL! INCLUDING the LGBTI community. If not now, then when? Those who won't accept our existence now, won't accept it in the future either. One of our criteria for recognizing progressive groups and organizations these days is whether they respect LGBTI rights or not and include LGBTI rights in their manifestos.
The LGBTI community is oppressed by the Islamic Regime, but also experience discrimination, hate and violence from family, friends and society in general. Under the Islamic Penal Code (IPC), the following laws have been designed to intimidate, punish and oppress the LGBTI community:
Islamic Republic of Iran (IRI) remains an extremely hostile and dangerous environment for LGBT individuals and activists. Serious human rights violations continue to be perpetrated by state and private actors against LGBT community. The Iranian government has completely failed to hold perpetrators accountable who carry out abuses with impunity.
     

The IRI's penal laws continue to impose criminal sanctions and maintain the death penalty and corporal punishment for consensual same-sex sexual conducts and homosexual expressions.
Criminalization
   

Iran's new Islamic Penal Code (IPC) adopted in 2013 continues to penalize consensual same-sex relations between adults by severe and inhuman punishments including the death penalty and flogging.
   

In relation to consensual same-sex sexual intercourse between men, called livat (i.e. sodomy), the IPC imposes the death penalty, although it treats the active and passive parties differently. The active partner will be sentenced to death and executed provided that he is either married, or if he is a non-Muslim who has engaged in sodomy with a Muslim passive partner. The passive partner, however, is punishable by death sentence regardless of his marital status or religion (art. 234). Homosexual acts between men that do not amount to sexual intercourse are also punishable by up to 100 lashes (arts. 236-7).
https://6rang.org/english/wp-content/uploads/2023/08/7.8.2023_No-more-Silent-No-more-Hidden.jpg
1080
1080
Melika
https://6rang.org/english/wp-content/uploads/2020/11/logo-6rang-en.png
Melika
2023-08-04 16:54:19
2023-10-25 14:08:19
No more Silent, No more Hidden – Shadi Amin at Stockholm Pride's Academic Seminar