Zahra (Sareh) Sedighi Hamedani to be released from Urmia Prison after the payment of her $45,000 bail
6Rang is pleased to announce that Zahra Sedighi Hamedani, better known as Sareh, was released from Urmia Prison this morning.
Sareh, an LGBTQ+ rights activist, was arrested in the West Azerbaijan province on 27th of October 2021 by the IRGC. She was later sentenced to death.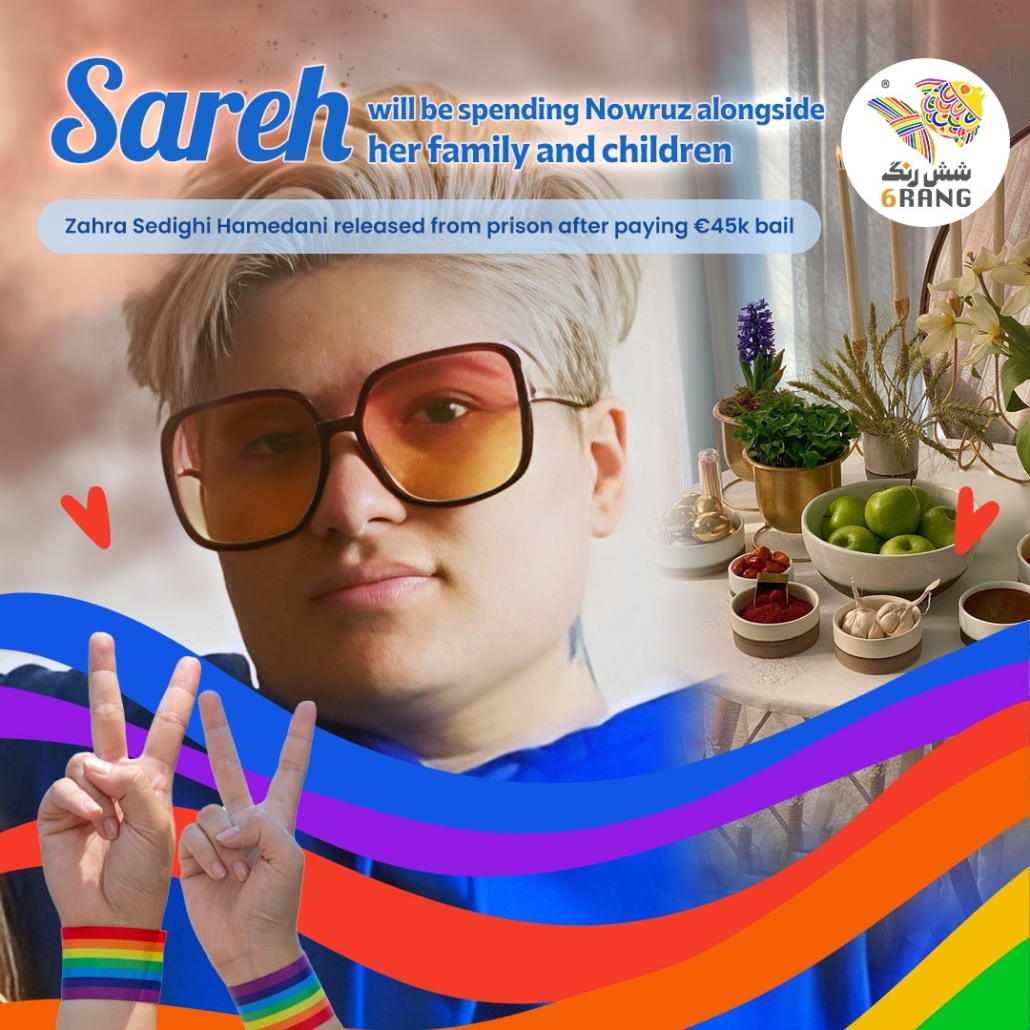 The happiness at hearing this news is the right of each of us. We have contributed to the rights of LGBTQ+ people. We are grateful for every one of you – the LGBTQ+ community, our allies, human rights organisations, those who helped in the campaign to free Sareh and Elham, even those who didn't allow Sareh and Elham to be forgotten by tweeting their hashtag.
To her family who will spend the new year alongside her, her children who have been awaiting their mother's embrace. This is to Sareh herself who persevered and stood strong, who never gave up hope or stayed silent, lest her voice not be heard.
6Rang, the Iranian LGBTQ+ community, Iranian and international human rights organisations, activists around the world and many others have spent months campaigning for Sareh and Elham to be released. By raising awareness and showing support, their death sentences were revoked and they were freed.
We owe this good news to international support and unity.
Zahra Sedighi Hamedani, also known as Sareh, was convicted of corruption on earth for promoting homosexuality. She was sentenced to death by the Islamic Revolutionary Court on September 1st, 2022. Her sentence was dropped on December 28th, 2022, and she was freed today after the payment of her bail. 
This is the light at the end of the tunnel this Nowruz, especially after a year of tragedy.
https://6rang.org/english/wp-content/uploads/2023/03/WhatsApp-Image-2023-03-18-at-22.29.36.jpeg
1080
1080
Melika
https://6rang.org/english/wp-content/uploads/2020/11/logo-6rang-en.png
Melika
2023-03-18 15:17:28
2023-03-18 22:30:32
Sareh will be spending Nowruz alongside her family and children