Doski Azad, a transgender woman of 23 years old, was killed last year in Duhok, Iraqi Kurdistan, in a horrific and senseless act of violence that draws attention to the persistent prejudice and marginalization experienced by the LGBT+ population in the area. Doski, a make-up artist and internet personality who was open about her transition on social media, was a well-known and respected member of the community. She was brutally murdered on January 28, 2022, by her estranged brother, Chakdar Azad, in a shameful act of "honour" killing.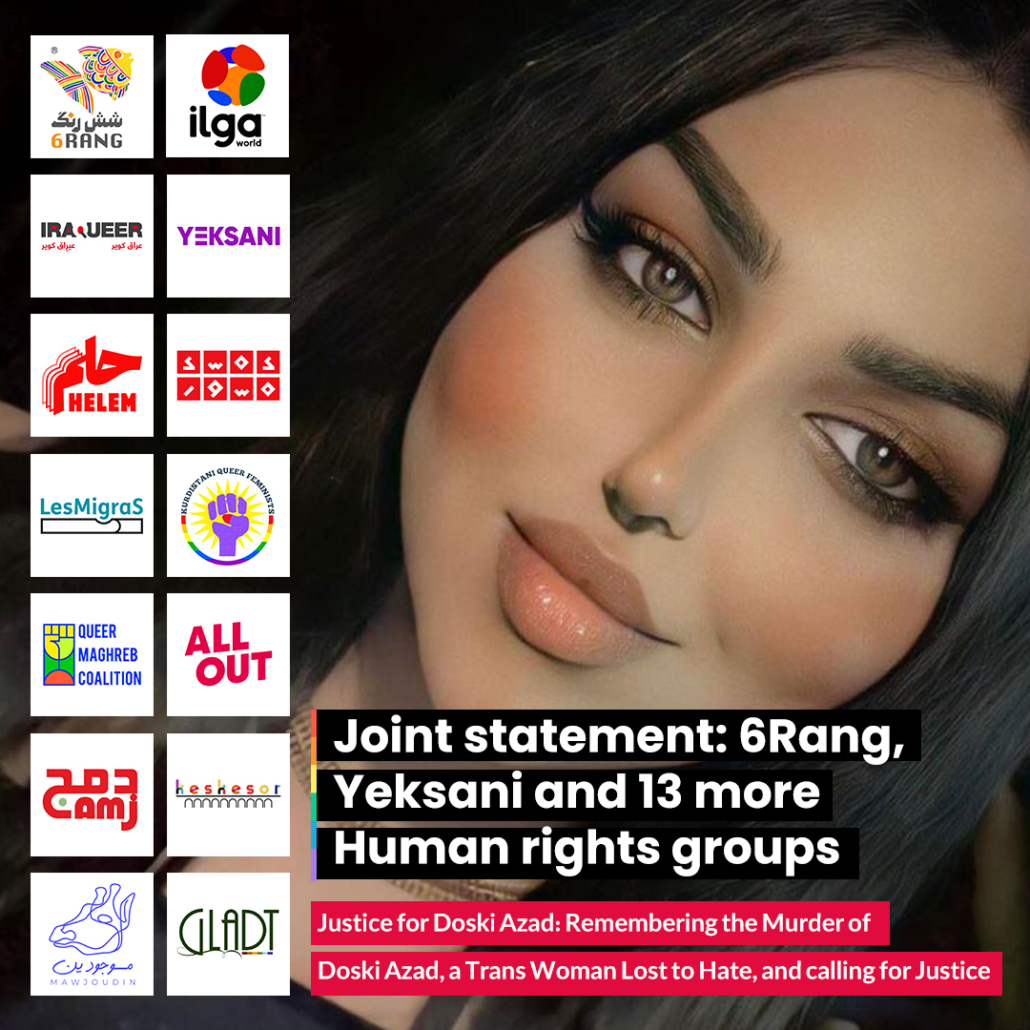 The fact that Doski's family persisted in trying to locate and intimidate her, even after she had left them five years prior, serves as a distressing reminder of the dangers faced by the LGBT+ community in the region. It is unacceptable that Doski was not only killed for being a transgender woman, but also for simply being true to herself and asserting her right to self-expression and autonomy, despite societal and cultural norms that seek to restrict the freedoms of marginalized groups.
As members of the LGBT+ community and representatives of civil society, we vehemently condemn this murder, and urge both the Iraqi government and the Kurdistan Regional Government (KRG) to act swiftly and decisively to bring the killer to justice. We have previously made this request through a petition signed by over 25,000 individuals worldwide.
The murder of Doski Azad is a tragic reminder of the ongoing violence and discrimination faced by LGBT+  individuals in Iraq and Kurdistan. We demand that the KRG, the Iraqi Government, and the international community take action to ensure that justice is served for Doski Azad and all other survivors of queerphobic violence and victims of hate-crimes.
https://6rang.org/english/wp-content/uploads/2023/02/3.2.2023_doski-azad-en-1-1.jpg
1080
1080
Melika
https://6rang.org/english/wp-content/uploads/2020/11/logo-6rang-en.png
Melika
2023-02-07 14:07:13
2023-02-08 11:28:28
joint statement: 6Rang, Yeksani and 13 more Human rights groups Justice foe Doski Azad: Remembering the Murder of Doski Azad, a Trans Woman Lost to Hate, and calling for Justice