Over 150 influential writers, artists, politicians, and citizens are calling for overturning the death penalty for two Iranian women who have been sentenced to death on charges of "corruption on Earth through the promotion of homosexuality".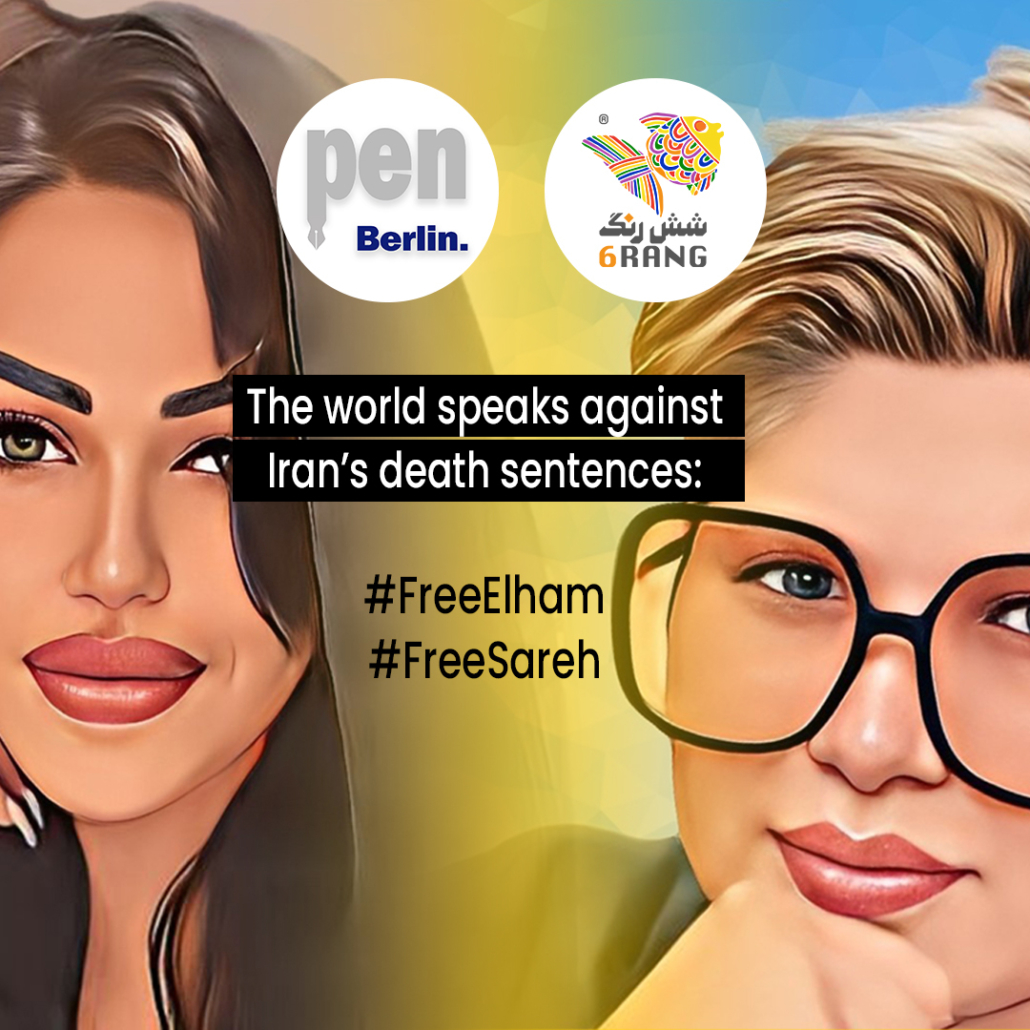 Amid the executions of protestors in Iran, concern has been rising over the fate of Zahra Sedighi (Sareh), 33, and Elham Choubdar, 24.
In the campaign #FreeSareh #FreeElham launching on December 14th, public figures and celebrities hold a piece of paper calling on for #FreeSareh and #FreeElham.
Amongst the personalities are Nobel laureate 2022 in literature Annie Ernaux, author and journalist Carolin Emcke, US-American historian Susan Stryker, Member of the Bundestag Tessa Ganserer, French writer Hélène Cixous, philosopher Paul B. Preciado, Federal Government's Commissioner for LGBTIQ+ Equality Sven Lehmann, climate activist Luisa Neubauer, pianist Igor Levit, playwright Theresia Walser, writer Sasha Salzmann, author and theatre-maker Sivan Ben Yishai, television presenter Bettina Böttinger.
"The current revolution in Iran is a feminist revolution that is also fighting to end the violence against LGBTIQ people in the Islamic Republic of Iran. Nobody should be sentenced to death for speaking out on matters of love," says Jayrôme Robinet.
The campaign is a collaboration between the Iranian Lesbian and Transgender Network (6Rang) and PEN Berlin.
"Sareh and Elham are in a dangerous situation. The killing machinery of the regime is currently busy executing protestors and the death sentence is hanging around Sareh and Elham's heads. This is where the voices of writers, artists, and public figures are very important and can change their fate," says Shadi Amin, 6Rang's executive director.
Sareh was arrested in West Azerbaijan province while attempting to flee to Turkey. She was detained for social media posts defending LGBTQI rights. She conducted interviews and Instagram lives and ran a Telegram group where she wrote about LGBTIQ issues. She is a prominent figure in Iranian LGBTQI circles who stood up for the freedom of the word on social media. Sareh and Elham have both been charged with corruption on earth, promoting homosexuality and illicit sexual relations and publishing them on the Internet.
UN experts have expressed concerns that Sareh and Elham may have been arbitrarily detained and ill-treated. The Iranian regime has a long record of executing activists who speak out for human rights on fabricated charges. The Islamic Republic of Iran explicitly prohibits homosexuality and same-sex relations are punishable by death under the penal code.
6Rang and PEN Berlin appeal to everyone to join the campaign and post a picture using #FreeElham #FreeSareh.
We urge Iran's authorities to immediately overturn the death sentences of Zahra Sedighi (Sareh) and Elham Choubdar and free them immediately.
"We urge the Federal government to call on the Islamic Republic of Iran to repeal the death penalty and save the life of Zahra Sedighi (Sareh) and Elham Choubdar," says Robinet.
You can also sign the petition started by All Out – it has gathered over 116,000 signatures.
https://6rang.org/english/wp-content/uploads/2022/12/16.12.2022_freeelham-and-sareh.jpg
1080
1080
Melika
https://6rang.org/english/wp-content/uploads/2020/11/logo-6rang-en.png
Melika
2022-12-16 11:23:11
2022-12-16 11:25:55
The world speaks against Iran's death sentences: #FreeElham #FreeSareh