Amnesty International has written a letter demanding the release of Sareh, an Iranian LGBT rights activist, to Mohseni-Eje'i, the chief of the Islamic Republic's judiciary. The organisation is asking human rights activists around the world to co-sign the letter.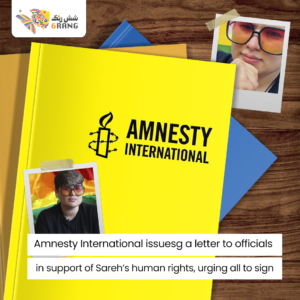 Zahra Sedighi-Hamadani, known as Sareh, is an Iranian gender nonconforming human rights defender is arbitrarily detained in Iranian prison.
She was arrested due to her real or perceived sexual orientation and gender identity, as well as defending LGBTI rights on social media. Same sex relations in Iran is punishable by death and LGBTI activists are repressed.
The Amnesty International letter demands that Sareh is given her basic rights, such as access to representation, and that the circumstances of her disappearance and arrest are investigated.
"We ask you to immediately and unconditionally release Zahra Sedighi-Hamadani as she is detained solely based on discriminatory reasons related to her real or perceived sexual orientation or gender identity and for the peaceful exercise of her human rights including rights to privacy and freedom of expression and association," the letter states.
The Islamic Revolutionary Guards Corps (IRGC) arrested Sareh near the Iranian-Turkish border. She had tried to enter Turkey, without official permission to leave Iran, in order to gain support from the international community. After her arrest, no information was available about her case for 53 days. It was later disclosed that IRGC was holding her in solitary confinement in a detention centre in Urumieh, West Azerbaijan.
During this period, she said that she was subject to severe interrogation and torture by the IRGC who harassed her due to her identity and gender expression.
She has been threatened with execution, injury, and the loss of custody of her two young children. These actions are in violation of the absolute prohibition of torture and other forms of ill-treatment.
Sareh has been accused of spreading corruption on earth through promoting homosexuality, communicating with anti-Islamic media and promoting Christianity. These accusations are ill-founded.
https://6rang.org/english/wp-content/uploads/2022/05/19.5.2022_Amnesty-International-en.jpg
1080
1080
Melika
https://6rang.org/english/wp-content/uploads/2020/11/logo-6rang-en.png
Melika
2022-02-24 11:11:07
2022-05-19 11:12:14
Amnesty International issuesg a letter to officials in support of Sareh's human rights, urging all to sign