Leaked footage from Evin Prison, Tehran, shows the deplorable living conditions and treatment of trans individuals in the so-called 'trans ward', including inhumane solitary confinement, neglect and suicide.
Several videos were leaked by a group of hackers who had intercepted the prison's CCTV system and recorded scenes of violence, one of which was located at the underground of the Quarantine Ward, as confirmed by 6Rang.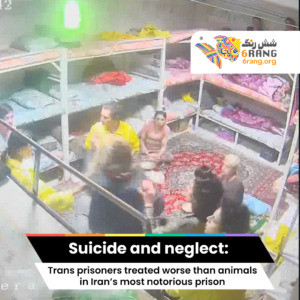 The horrifying living conditions depicted in these videos were overcrowding, lack of fresh air and sunlight and discrimination based on gender identity. Upon further research, 6Rang discovered that before these prisoners are transferred to the 'trans ward', they were usually kept in solitary confinements in Ward 240, some for months or even years. They were essentially quarantined and had only been allowed in the recreational yard a handful of times in years. There are reports about the cramped conditions causing physical ailments, such as issues with vision and bone problems.
Former prisoners who spoke up on social media after the leak talked of the sexual abuse they or their fellow trans prisoners experienced. They pointed to this as a cause of suicide in Evin prison, another scene that was shown in the footage.
Violence and harassment run rampant in Evin prison, both at the hands of the guards and other inmates. One of the videos shows a physical fight between two prisoners with the guards standing to the side and not acting to break up the conflict. The negligence in part of the prison is quite clear here.
Even though Iranian law does not criminalise trans individuals, there is still social stigma against these individuals that allows subhuman conditions like this to persist. The prevalent harassment of trans prisoners by prison authorities exacerbates an already vulnerable group of people.
Link to Farsi version of this article: https://6rang.org/16974/
https://6rang.org/english/wp-content/uploads/2022/01/345346.jpg
1080
1080
Melika
https://6rang.org/english/wp-content/uploads/2020/11/logo-6rang-en.png
Melika
2022-01-10 18:27:19
2022-01-11 09:25:14
Suicide and neglect: Trans prisoners treated worse than animals in Iran's most notorious prison