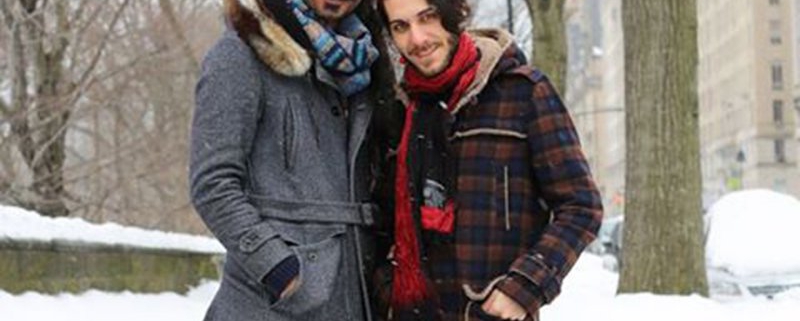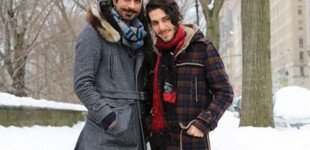 Photo by Humans of New York
A gay refugee couple from Iran have become Facebook superstars thanks to a
shout-out on Humans of New York. They talk to The Daily Beast about life for Iran's persecuted LGBT community in a country that denies their very existence.
Last Thursday night, around 7 p.m., a photograph was posted to the cultish Humans of New York Facebook page. The picture is fairly typical for New York City: two young, hip-looking men bundled against the snow, starting a day of sightseeing with a stroll through Central Park. But the caption caught the attention of the blog's avid followers: "We're gay refugees from Iran."
In Philadelphia, the couple and their friends gathered around a computer until late at night, hypnotized as they watched comments and likes stream in for hours. The counter ticked upward at an unprecedented speed—even for a blog where tens of thousands of likes on a post isn't unusual. Six days later, this photo is just shy of 200,000 likes.
Ramin Haghjoo, pictured on the left sporting a handlebar mustache, and his boyfriend Najid (whose name has been changed), an artist, met at the house party of a friend in a country where being gay is punishable by flogging and execution. In fact many things about them were deemed illegal in Sharia law-governed Iran, from the 29-year-old Haghjoo's hair—worn long, hanging past his shoulders ("I always had to run away from police so they didn't see my hair," he remembers) —to the way they dressed, keeping with the latest fashions in a country where wearing tight jeans is illegal.
The outpouring of comments was overwhelmingly positive, coming from Americans and Iranians alike. "I think they mean 'We're ADORABLE gay refugees from Iran,'" someone wrote. "More like gay refugees from the planet Fabulous," another posted. Any negative remarks were were quickly pushed into the unreadable depths of more than 6,000 comments by passionate defenders of the couple.
One woman's reaction was particularly telling: "I'm from Iran, and this is first time in my life that I see an Iranian couple are openly announcing that they are gay. I have to say that you really have guts! I can imagine that you've passed many difficulties in the past to get to this point!"
Little did she know what had transpired to bring this couple together for a pose on the outskirts of Central Park.
In the aftermath of Iran's 2009 elections—two years after then-President Mahmoud Ahmadinejad told a Columbia University audience that, "In Iran we don't have homosexuals like in your country,"—protesters took to the streets, calling out electoral fraud and demanding their human rights. Haghjoo went out too, donning tape over his mouth and a sign lauding free speech for Iran.
"I participated in the protests at the time because I'm a member of a sexual minority and also religious minority," Haghjoo, who is a Sufi, says. "I wanted to stress my individuality and identity." But on June 20, 2009, at a protest in Tehran, he was shot by government forces. The bullet entered his stomach and exited from the side. He was taken by fellow protesters for medical treatment, and underwent surgery.
He recovered, but about a year later, rumors were circulating that the Iranian authorities were raiding hospital files to see who had been admitted during the protests and could be pinpointed as participants.
Fearing for his safety, Haghjoo fled Iran for Turkey in May 2010, thinking he would return home in a few years. But when officials began harassing his family, he instead applied for asylum to the United States. Amazingly, his request was quickly pushed through with the support of human rights organizations and he arrived in Pennsylvania eight months later.
"We thought it was over basically—I had been shot and he had been arrested and the prospect of being together didn't seem realistic," Haghjoo says of his relationship with Najid. But during two years apart they spoke on Skype every single day, sometimes for up to six hours. "The first thing that kept us together was love," Haghjoo says. And then Najid, who had been detained in another city during the protests, decided to similarly seek asylum, which he was granted. He finally met up with Haghjoo in Philadelphia in late 2012.
"It is terrible that we are not able to be ourselves in our own country," Haghjoo says now. And he's had to come to terms with the fact he may never return to see his homeland, immediate family, and friends. "Thinking about that makes me emotional," he says and begins to choke up. "I wish I could live as comfortably inside Iran."
Haghjoo has been openly gay since he was 20 years old, after a therapist he consulted after a difficult breakup revealed his sexual orientation to his family. Fearing they would reject him, Haghjoo says he was "stunned" that his parents accepted him. "My father said, 'You are part of me how could I reject you?'" he remembers.
From then on, he began tell his friends. "I was surprised to see how easily they took the information and accepted me and I also realized how uninformed they are about the LGBT community."
They thought, he remembers, that homosexuality was a disease and that gay males tried to be girls. This was, he says, "the information that was distributed through the official media and what families had been communicating to each other generation after generation." Haghjoo, then a psychology student, explained what he had read in his textbooks: "I was born with it," he told them.
But many others in Iran haven't had the open reception afforded to Haghjoo. In his work now, he tracks down and interviews family members and associates of those executed by the Islamic Republic of Iran for the D.C.-based Boroumand Foundation, an Iranian rights group. He's helping the Foundation build a searchable database of every victim of capital punishment since 1979. The undertaking is massive: In January 2014 alone, Iran has executed more than 90 citizens.
"They are executing homosexuals but no one knows how much, it's impossible to determine who has been executed for what," says Roya Boroumand, the foundation's co-founder and executive director. She says 150 have been executed for sodomy since the revolution, but many more under false charges of rape. "We don't even have the tip of the iceberg."
Haghjoo connected with Boroumand at a protest in DC, where she asked him about life as a LGBT Iranian. His reply, that "they managed," didn't satisfy her. "It seemed the fact that they are arrested and released, or arrested flogged and released, or that they are considered as mentally ill has become accepted as OK," she remembers. Later she adds: "People like Ramin are often not aware how many rights are violated in their everyday life." So, she gave him a task: Find gay parties that were busted and track down what had happened to those arrested.
Gatherings of LGBT people in Iran are incredibly dangerous, especially outside of the large capital. In 2007, Haghjoo's boyfriend at the time was arrested along with 85 homosexuals and transexuals in Isfahan, a large city south of Tehran. The arrests were particularly brutal, and they were detained in one of the area's most infamous prisons for a week until international pressure led to the release of all but 17, who were tried and sentenced to fines. Four received 80 lashes.
"It was really tragic because, after the bust, friendships were broken, relationships were broken, families didn't allow children to meet each other again—nothing was like before," Haghjoo says. "So, for many of these people who had been forced to deny their own identity and be subjected to this treatment, they had very serious psychological aftermath to this arrest. They had to get medical help, and their lives were changed."
Parties in Iran are often planned around strict precautions, since the music, fashion, and alcohol consumption are against Islamic laws. For Haghjoo's birthday in 2008, he threw a party with 120 LGBT friends. Instead of telling them the location outright, he led them from neighborhood to neighborhood in small groups via text message. If police had raided it, they would most likely be charged with encouraging moral corruption and prostitution. "If we were busted and the police saw that there are 120 very well-dressed boys, with some of them wearing makeup, they would immediately know what is happening," he says.
The administration in Iran has changed since Haghjoo and Najid left, but they're not buying into new President Hassan Rouhani's promises of reform. In fact, Haghjoo says he believes Rouhani would have the same answer to questions of Iran's homosexuals in Iran as Ahmadinejad gave in 2007—just  "a little bit more polite." True progress for human rights, he says, can only come through separation of Islam and state. "I don't think that—as long as these laws are based on religion—I have a place to live in the country," he says.
Boroumand agrees, calling the rate of executions a hidden warning from the regime: "Don't think that just because there's a new government and we are compromising with outside world you can feel comfortable—don't feel comfortable."
In recent days, anti-gay discrimination has been bubbling in United States, as Arizona and Kansas toy with laws that would allow businesses to refuse service to LGBT on religious grounds. "For me, this is unacceptable, this is going back to the past," Haghjoo says. Being denied services due to his sexuality would just feel like living in Iran, he adds. "What these people have to understand is that before anything else we are human beings, regardless of sexual identity or religious beliefs, and as such we have to respect each other."
On Facebook, Haghjoo's profile picture shows him and Najid smiling in the Humans of New York shot, donning their stylish and, in his boyfriend's case, colorful, outfits. "Because we are gay we are always looking fresh," Haghjoo laughs. He'd love to live in New York City, which he says, "is the same as Tehran"—busy, cosmopolitan, just with key constitutional differences. But he knows his candid "Basic Information" section would never fly in his hometown, 6,000 miles away:
Gender: Male
Interested In: Men
Relationship Status: In a relationship
By Nina Strochlic
Source: http://www.thedailybeast.com/articles/2014/02/27/gay-iranian-and-stylish-in-exile.html
https://6rang.org/wp-content/uploads/2014/02/1393498049140.cached.jpg
500
800
مدیر سایت
https://6rang.org/wp-content/uploads/2020/02/logo-6rang.png
مدیر سایت
2014-02-28 06:32:03
2021-03-02 05:50:37
Gay, Iranian And Stylish in Exile