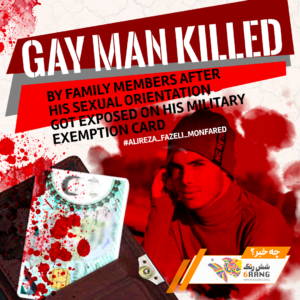 On May 7th, 2021, 17th Ordibehesht 1400, 6rang (The Iranian Lesbian and Transgender Network):
Ali Fazeli Monfared, known to family and friends as Alireza, was a twenty-year-old gay man living in the neighborhood of Mahal Tasviye Shekar (Sugar Refining Path) in Ahvaz, Iran. Alireza was kidnapped by a group of men from his family, beheaded, and found the next day.
According to Aghil Bayat, an Arab LGBTQI activist who had been in touch with Alireza since late 2019, the murder took place following the revelation of Alireza's sexual orientation. This event took place when his half-brother opened an envelope containing Alireza's military exemption card.
These exemption cards are issued through the Islamic Revolutionary Guard Corps. Alireza received one by indicating that he was gay, which is permissible under Paragraph 5, Article 7 of the military exemption laws. Unfortunately, in Alireza's case, this selection cost him his life.
The men accused of Alireza's murder contacted his mother on Wednesday and informed her that she could find her son's dead body laying at the foot of a palm tree.
Alireza's mother is, understandably, in a state of shock. She is suffering an immense amount of grief because of the death of her only child, and has been hospitalized as a result. Alireza's partner, who currently lives in Turkey, has informed 6rang that all three men associated with the murder have been arrested and charged with first degree murder.
The circumstances surrounding Alireza's murder reaffirm our concerns regarding the potential dangers of the sexual orientation exemption to young men in Iran. It highlights, once more, the necessity of proactive legislation in this area.
Prior to this news, 6rang had shed a light on these problematic changes which make it legal for law enforcement, judicial officials, education officials, and employers to quickly identify gay men just by looking at their military exemption card.
In another part of the report, it is stated that "documentary reports received by 6rang indicate that under the pretext of implementing the latest regulations to medical exemption from military service, the 10+ Police and the deputy of the police system are registering the most private information related to sexual orientation and behaviors of applicants for exemption. Furthermore, it's not clear how the information may be used in the future.
6rang would first like to offer its condolences to Alireza's family and friends. We cannot imagine the pain that you are feeling, and we want you to know that we stand in solidarity with you. Additionally, 6rang hereby declares that it will work tirelessly to ensure that there will be a thorough investigation into Alireza's murder, and will continue the work of bringing the cultural and legal roots of this evil in Iranian society to light. 6rang calls upon everyone to utilize this horrendous tragedy as motivation to make long overdue demands and inquiries into the human rights abuses towards the Iranian LGBTQI community.
The current situation a serious danger to gay men, but gay women, along with the Iranian trans community, experience all kinds of violence and coercion on a daily basis.
We, along with offering our deepest condolences to Alireza's family and friends, ask you to take a moment to question what you can do to support people like Alireza. Would members of the media start by publishing our reports, as well as our accounts of similar stories, so as to bring more attention to the plight of the Iranian LGBTQI community?
To what measure are families fulfilling their duties to protect and support gay, lesbian, and/or transgender children?
By what means will human rights organizations agree with us regarding the inclusion of extreme violence against the LGBTQI community as human rights violations?
Lastly, and most importantly, to what extent does the government, and all institutions of the Islamic Republic, spread hatred against the LGBTQI community? To what extent are they responsible for the bloodshed of Alireza, and others like him?
How do they perpetuate this social taboo by criminalizing Homosexual relationships?
Also, let's explore how the absence of laws and advocacy methods, coupled with severe repression of the activists in this field, creates an obstacle to raising awareness, getting people out of isolation, and maintaining their security.
6rang welcomes all of you to turn this horrendous tragedy into motivation to make long-overdue demands and inquiries into the human rights situation of the Iranian LGBTQ community.
We urge the police and other institutions in Ahvaz not to use Alireza's sexual orientation as an excuse to spread hatred and intimidate Homosexuals in the investigation of this case, and to stop promoting violence in society. At the same time, we oppose the law of retribution. We ask for a fair trial and subsequent sentencing for the perpetrators of this murder.
This is not the first time we have witnessed such extreme violence against members of the LGBTQI community and, unfortunately, we know that it will not be the last. Such tendencies toward violent behaviors can be confronted with proper education about differing sexual orientations, gender identity, and further information regarding the world's standards for basic human rights.
History has shown us that suffering is not constant, nor is it permanent. The blood that has been shed by our peers will not have been in vain. We will raise our flag with pride and will continue to fight until we have achieved our goals in securing equality for all.
We know from history that this situation is not constant and permanent. And these bloodsheds will not remain on the soil and will embellish the flag that we have raised to obtain our rights, and we will not leave it on the ground until we achieve our goals.
https://6rang.org/english/wp-content/uploads/2021/05/6Rang_Alireza_EN.jpeg
1080
1080
Shadi Amin
https://6rang.org/english/wp-content/uploads/2020/11/logo-6rang-en.png
Shadi Amin
2021-05-10 14:21:34
2021-05-10 14:46:33
Murder of a young Ahwazi gay man after the revelation of his sexual orientation through a military exemption card