<![CDATA[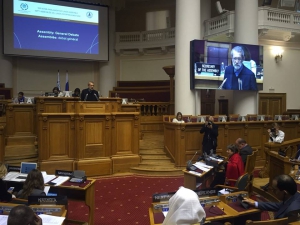 20 October 2017 – According to ICANA (Islamic Consultative Assembly News Agency), the Iranian delegation at the 137th Inter Parliamentary Union assembly, has successfully pursued the removal of the subject item "defending the rights of homosexuals" from the 138th agenda for the Standing Committee on Democracy and Human Rights.
The news came as yet again another example of addressing gays and lesbians in unacceptable and degrading language.
The Iranian officials have previously severely criticized and denounced the call for equal protection for "vulnerable" or "marginalized" groups in the UNESCO 2030 agenda, stating that it, by definition, includes "homosexuals" and same-sex families and is thus completely unacceptable to the Iranian regime.
Ali Larijani was the head of the Iranian delegation that arrived in Saint Petersburg, to attend the 137th meeting of Inter-Parliamentary Union.
The news has not appeared on the English version of the website so far. To find the news on ICANA, click
here
.
]]>
https://6rang.org/english/wp-content/uploads/2017/10/لاریجانی-IPU.jpg
720
960
milad
https://6rang.org/english/wp-content/uploads/2020/11/logo-6rang-en.png
milad
2017-10-20 16:46:26
2021-04-29 01:04:01
Iran claims to have successfully pursued the removal of the rights of gays and lesbians from the next IPU agenda