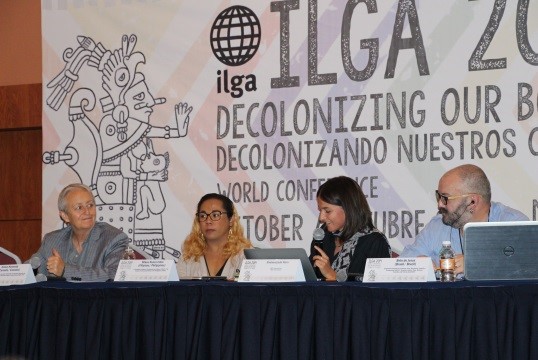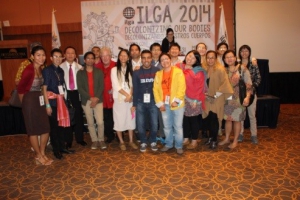 After three days of hard and intensive work, I expected that the Thursday's program would start after a long delay, but the organizers started just after ten minutes.  The first part of the program was set to announce nominated individuals for the ILGA directorship and also the Women affiliation.  First Tamara Adrian went on the scene and presented her talk for candidacy. She said: "I am a lawyer, and I identify myself as a transgender, lesbian and the voice of trans genders. I am Venezuelan and I know the issues of southern countries very well. I am addicted to my work and I work up to 15 hours daily. I would like to contribute to reach ILGA's and our goal."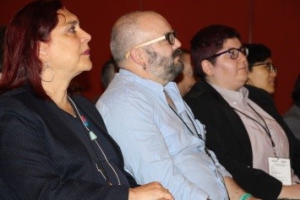 After Tamara, Ruth Baldacchino came up to tribune to give their speech about seven years of their experience with ILGA. Them emphasized on the necessity of teamwork and improvement of the progressive approaches. Then also noted that they identifies themselves neither a woman nor a man and does not accept any sexual identity for themselves.  The next candidate named Roberto De Jesus identified himself as a gay and emphasized on the necessity of improving positive aspects and eliminating negative points.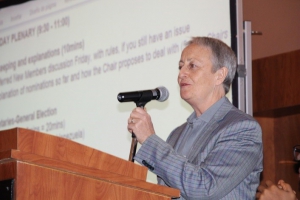 The last person for ILGA directorship candidacy was Helen Kennedy from Canada. She identified herself as a butch lesbian and she emphasized on fighting against homophobia and trans phobia. She also noted that we must improve organized advocacy toward cultural and political changes. Then participants were asked to mark a name on their cards and drop them into the election box.
After the election came the time to designate next conference host in 2016.  Based on the host designation procedure, countries would introduce and talk about capacity and abilities of their organizations to attendees so they could choose the host country base on these information. Three countries including Botswana, Cuba and Thailand were the candidates. First, the representative of Botswana introduced the country, talked about its natural attractions and spoke about the safety and freedom provided for homosexuals in Botswana.Then two of Cuban participants tried to attract the support of attendees to choose Cuba. They showed some photos of Cuban people, its beaches as natural attractions and talked about the safety of Cuba also noted that it's been years that Cuban trans and homosexuals have held the pride ceremony freely. At the end, the representatives from Thailand appeared on the scene to speak about the benefits of their country. They argued that since this conference has taken place in Latin America, it would be better the next conference to be held in Thailand; which is located outside of Latin America. Officials in the Human's Right Commission of Thailand had taken thirty-six hours flight to Mexico to promote their country as a host.   After that a panel for General discussion was held with the presence of Sheherezade Kara, Mikee Nunez Inton from Philippines and Roberto de Jesus from Brazil. Helen Kenedy from Canada was the organizer of the panel. Mikee who is a Philipino Trans woman presented a report about the situation of trans genders and violence against them.  After her, Roberto spoke about the living condition of trans genders and homosexuals in Brazil. The last talk was Sheherezade who explained about activities of "Arc International". She spoke about a great victory in September, which was gained through the efforts of twenty-five organizations active in the field of homosexuals and trans gender's rights. The result of these efforts was prohibition of any discrimination and violence based on sexual orientation and sexual identity, which was passed by Human's Right Council – one of the affiliations of The United Nation- with twenty five positive votes.   Following that, we discussed about words that had been used during the conference. The precision of individuals in choosing right words gave me this idea, how easy people in our society, speak carelessly about sexual identity and sexual orientation of others. In this part of the conference, many of attendees expressed their concerns about incorrect usage of some concepts and emphasized on choosing right words. Afternoon as the conference continued people divided into different groups. I chose the workshop about policy making in ILGA about trans genders and after that attended the designation of strategies for ILGA. At 7 P.M several yellow buses drove us to MexicoCity Cultural Centre to celebrate the night together. We went to a great, antique and beautiful building. The right side of hall was decorated in Mexican traditional way in tribute to figures who have passed away. There were pictures of dozens of people on the walls including Freddie Mercury, Sappho, Oscar Wilde and others. Actually we faced images of homosexual figures who their efforts throughout the history paved the way for us to continue their path. Dozens of sugary sculptures shaped as skull skeletons were set as symbols of needs of deaths like cigarette, fruit and bread.   On the other part of the program, Transportation minister of Mexico City, congratulated the organizers for holding the conference, and donated a cheque to Gloria Perez in order to support the conference. Then it was dance, music and various entertainment  programs' time. The night after the end of program when I arrived to hotel, theIran's second  Universal Periodic Review (UPR) started in Geneva so I watched it online. I am really glad that our efforts in 6rang and Justice For Iran (JFI) in the past months aimed to good results and we could convince more countries to bring up the discrimination issues against homosexual and trans genders. This time "Eleven" countries gave advises to Iran. Other than practical result of this meeting, the good point here is that Islamic Iranian Governmental officials would understand that Iran is not their private property and they are not allowed to do whatever is in their benefit without getting any feedback. Proposing this topic, attracted the attention of Human's Right Organizations, Unions, Activists and intellectuals to suppression of homosexuals and trans genders in Iran, so it would be discussed in the Iranian media for a long time, and finally it would force Iran government to react. Isn't the awareness the first step to change? P.S: Congratulations to Helen Kennedy, Executive Director of Egale Canada Human Rights Trust, who was elected Co-Secretary at the ILGA2014 World Conference in MexicoCity also congratulations to Thailand for being designated as the host for 2014 ILGA international conference.
https://6rang.org/english/wp-content/uploads/2014/11/post20.jpg
1080
1080
milad
https://6rang.org/english/wp-content/uploads/2020/11/logo-6rang-en.png
milad
2014-11-01 04:59:50
2020-11-16 05:51:13
ILGA international conference 2014/ The fourth day