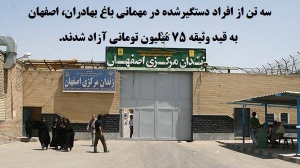 6Rang, 16 April 2017: An estimated 30 men arrested last Thursday in a friendly gathering in Bagh-e Bahadoran, Isfahan, have now been transferred to Dastgerd Prison. Sources have informed 6Rang that a court in Isfahan has charged them with "sodomy and consuming psychedelic drugs and alcohol."
According to the reports 6Rang has received, on Thursday, April 13th, at approximately 8:30 pm, Basij militia forces raided a gathering of young men and transferred the arrested men to the Basij base in Bagh-e Bahadoran and then to Isfahan Police Station. The authorities involved have informed the families of the estimated 30 arrested men that, "their crime is homosexuality, and they will be detained for at least 3 days without visitation."
Other private gatherings were raided previously in Isfahan, Shiraz, Kermanshah and Kerman, after which the arrested people received similar charges and were sent to the Legal Medicine Organization of Iran (LMOI) to undergo forced "anal tests," so as to confirm whether they have had same-sex intercourse.
6Rang has so far published the testimonies of people who were tried and sentenced after being arrested in similar gatherings. These testimonies describe various forms of degrading treatment, sexual insults and mental abuse, as well as physical torture during arrest and detention.
For instance, Ali, one of the people who was arrested at the 2007 The Isfahan Raid, has previously testified about "anal tests" to 6Rang: "Inside a room, a doctor asked me to take off my pants and bend over. I was really embarrassed, and it was a truly difficult situation to endure. I felt the doctor used a projector lamp and pulled my cheeks apart to examine my butthole. He then asked me to get up and leave the room. They did the same thing to the others."
Same-sex sexual conduct is criminalized in the Iranian penal code and is punishable by death. Meanwhile, the Islamic Republic of Iran has repeatedly been condemned for the criminalization of same-sex sexual conduct in the international community.
The right to privacy, which includes the freedom to gather in private settings, is one of the fundamental human rights. No judicial or law enforcement administration may invade the private places of citizens.
On Monday April 18, 2017, three of the detainees were released on a bail of 750 million Rials (about USD 20,000), but because of the threats and pressures they were subject to, they have not accepted yet to take part in interviews and talk of their experience.
6Rang hopes that the families will surely and vastly protest the detention of their children by contacting Iranian and International human rights organizations, including Amnesty International, to expose such human rights violations and demand the freedom of their relatives.
6Rang condemns any acts of degradation or oppression upon the detainees and demands their freedom.
6Rang
Iranian Lesbian and Transgender Network
Category: دسته‌بندی نشده