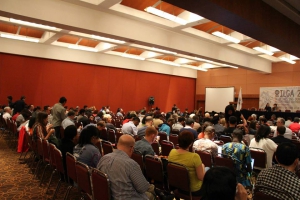 Today the conference started with more than 500 participant, including lesbian, gay, transgender, bisexual and intersex people. So far this was the most populous conference in ILGA's history, which take place every two-years. The board of directors of ILGA started the conference with presenting their reports about challenges of ILGA in the past two years. They explained about changes in the board of directors of ILGA and noted that they had moved the Europe office of ILGA from Brussels to Geneva. Martin and Jackie Lewis from the board of directors each gave a speech.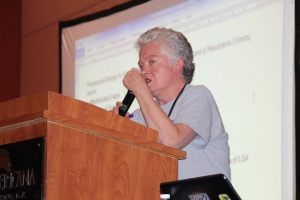 Jackie is one of the senior syndicalist of England and now he is managing the LGBT commission, which is the biggest union among England unions. Since 1992 has been in charge of managing ILGA as well and for years he helped with the continuation of ILGA activities only through transferring his experiences. Martin stated that during his period ILGA has held three seminars in three regions, which assisted and provided counseling to LGBT communities regarding mechanism of collaboration with the United Nations. Also he pointed out that ILGA has gained access to funds needed to stabilize it in the future. Jackie explained about the process of the conference, discussions, how to take part in the elections and etc.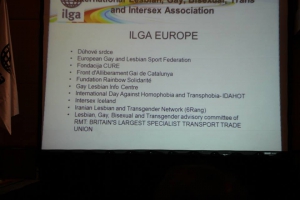 Two of consultants of lesbian/women section (Akinyi Ocholla ) and trans section (Tamara Adrian) explained their achievements and challenges. These two consultants who are working as volunteers, are elected once every two years in this conference. At the end of the report, they announced the organization which their membership were accepted by ILGA. Iranian lesbian and trans gender network (6rang) has been accepted as as member in this international organization, so from now on this network will coordinate with other Asian members in ILGA.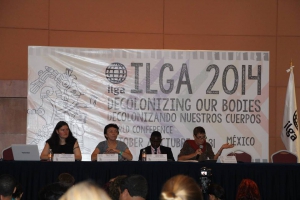 After that, a panel discussion named "decolonizing our bodies" took place with a presentation of Sonia Onfur Correa from Brazil, Janik Bastien Charlebois from Canada, and Richard Lusimbo from Uganda. One of the experienced executives in ILGA, Gloria Perez managed this panel. During the panel people shared valuable information including the role of academic theories regarding the views of individuals towards body, the role of religion and dominant discourses in societies, also the common image of femininity and masculinity has been challenged. After that the guests answered the questions of participants. At the end of this panel, Gloria Perez presented the results of 6rang research to the attendees and people who were interested in the topic went to Shadi Amin to receive the written reports from her.

After the lunch break, participants divided into different groups to discuss a specific subject. I joined the trans gender group, which Tamara Adrian and Mauro Cabral managed. Mauro who is Male Trans, focused his activities on changing the definition of "Trans" in the medical definition of The World Health Organization. Tangible progress in laws in these fields, is the result of efforts of people like him. I wish people who benefit from the outcome of these efforts would participate themselves in such activities.

Mauro is trying to change the section five of the book WHO ICD-10 regarding trans and sexual identity. The scientific and precise details in his speech were a proof for his commitment and efforts. In this meeting, I talked about our experiences in our research about sex reassignment surgery and explained the challenges and problems we faced in the research. After this, Tamara asked me to take part in the special meeting about Trans Issues and the future strategy of ILGA, which will take place tomorrow to share my experiences with attendees. 

After that, although I was interested to take part in a meeting, which was about safety and security, I attended another meeting that took place at the same time and was about LGBT refugees. I chose that meeting because of the presence of Arsham Parsi (IRQR) and other activist from England and Canada, who were explaining about their activities. Unfortunately because of some obstacles in the trip of one of our colleague to Mexico, we lost the chance to have a workshop to present the results of our research.
After this meeting, I attended to the meeting for deliberation and correcting the statute of ILGA. Here all officials of ILGA in the gathering of 40 persons were considering the points and suggestions. Discussions related to statute and regulation proceed very slowly. Although these problems solved, due to the constructive .suggestions and positive approach of members of this meeting

After this meeting, I scheduled meeting with activists from Tunis, Egypt and Sudan in order to discuss having mutual activities for common issues in these regions. 

"The dinner served at eight p.m and during the dinner the ceremony of "Go Visible award took place. This awarding is given from LGBT EUROPE COMMUNITY to organizations, which had high achievements. 
Three from fifty establishments, which were nominated for the award got gained it: "Sociedad Transgenero FTM Peru", "CHOUF community from Tunis" and "GALANG Community from Philippine"
Ulrik Lunask, Austrian representative in Europe Parliament awarded the award which included a certificate and 1000 Euro to the representatives of the mentioned establishments.
Category: Reports, خبرها, رویدادهای جهان