Iranian Lesbian and Transgender Network (6Rang) was established following the first Iranian lesbian and transgender gathering held in 2010 and spans across more than 110 networkers majority of whom are based in Iran. 6Rang networkers also include Iranians in Turkey as well as European and North American countries. Its mission is to raise awareness on sexual rights, and eradicate homophobia, transphobia and violence against lesbian and transgender people, in particular, and the LGBT community, in general. 6Rang highlights the fact that due to Islamic Republic's gender-based discriminatory laws and codes favouring heterosexual males above and beyond others as well as the power structure rooted in the Iranian community, lesbian and transgender citizens are the most marginalised within an already marginalised segment of Iran's population.
6Rang plans to achieve its aims through creating collaborative networks, media campaigns, research, documentation, and sharing information focused on LGBT individuals, in particular, lesbian and transgender Iranians.
6Rang's philosophy is founded on inclusivity and diversity in its daily activities as well as long-term plans. The organization maintains flexibility through an action-reflection-consultation management model but remains focused on its ultimate goals. Its day-to-day decisions takes place among seven network co-coordinators, each of whom are in charge of specific priorities and lines of action. However, the co-coordinators consult with other members as often as possible to ensure inclusivity and efficiency. In addition, it encourages democratic participation by holding general meetings and networkers gatherings when financially and logistically possible. The last gathering of its kind was held in Istanbul in June, 2014.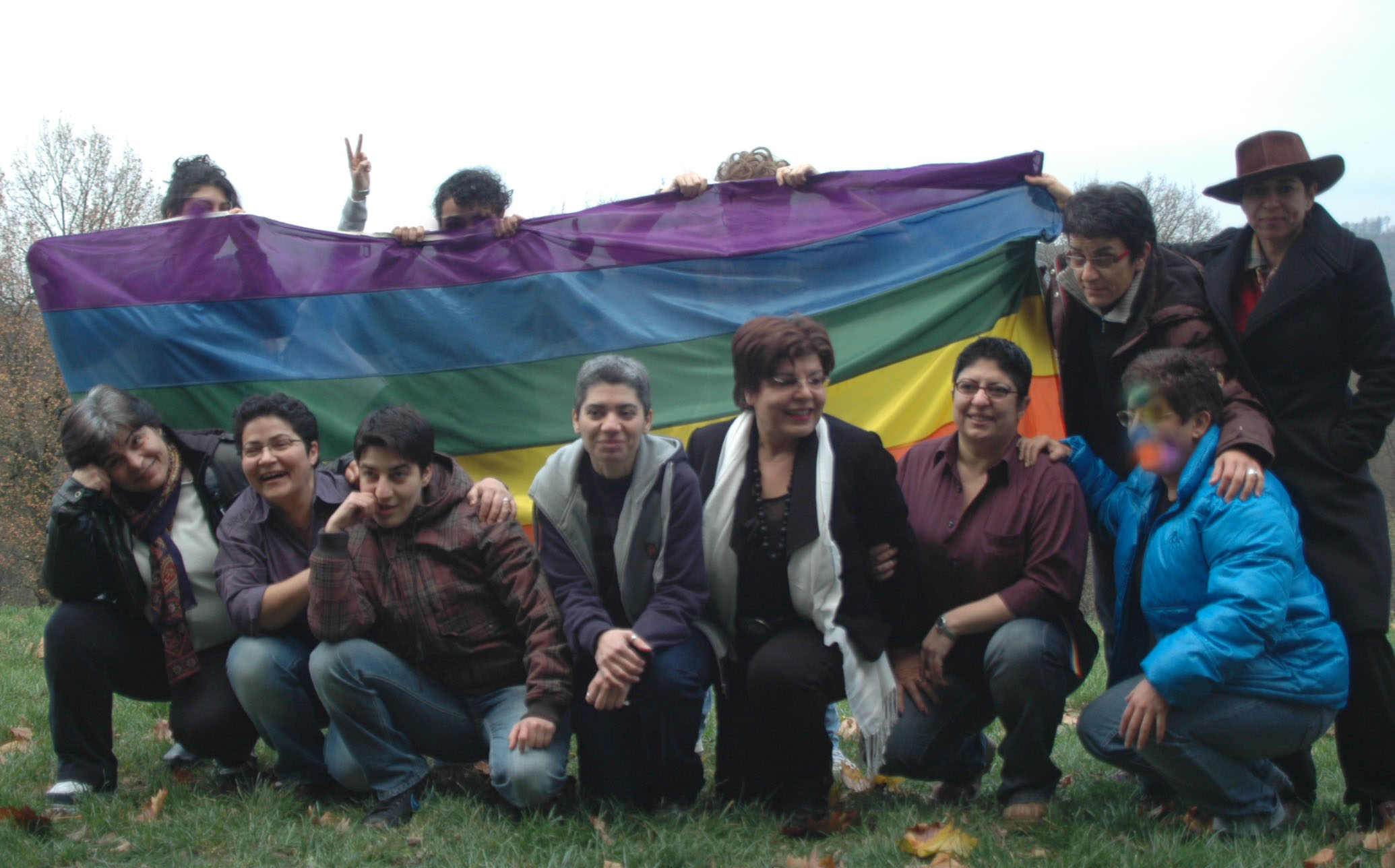 Examples of our success
The most important case is that of establishing a network with more than one hundred members, most of whom reside in Iran. Given the severe oppression of the LGBT community in Iran, and fewness of lesbian and transgender organizations that are able to survive in the entire MENA, this is no small achievement. In addition, providing a safe space for lesbian and transgender individuals to discuss their issues and reach collective decisions is another area of success. However, 6Rang has striven to be more by offering its network as a platform for activism and raising the capacity of the members to be more than a proud lesbian and transgender: to be a proud activist. 6Rang fills a major gap on important issues such as forced marriage, compulsory hijab and other challenges faced by lesbian and transgender individuals who are born female, not usually reflected in mainstream LGBT organisations more often focussed on gays.
6Rang has successfully established its one-on-one online counselling service for lesbian and transgender people in Iran where due to criminalisation of homosexuality and medicalisation of transgenderism, they are deprived of essential medical and counselling services. Since 6Rang started providing alternative counselling on a voluntary basis, we have received an overwhelming number of requests for counselling sessions mostly focussed on seeking advice regarding challenges within the family, society and overcoming violence in daily life. 6Rang refers to this area of activities as 'life counselling'
6Rang has been successful working with Farsi and mainstream media in order to raise awareness about homophobia and transphobia in Iranian society, from lesbian and transgender perspectives. In particular, 6Rang was successful in introducing new faces of lesbian and transgender activists to the media, a space previously reserved for a few well-known activists in the field. The launch of its first report, a ground-breaking research and analysis of medical abuse of lesbian and transgender individuals in Iran based on in depth interviews with 88 survivors and witnesses during Istanbul Pride 2014 attracted media coverage by BBC World, BBC Persian Service, Reuters, as well as Turkish media.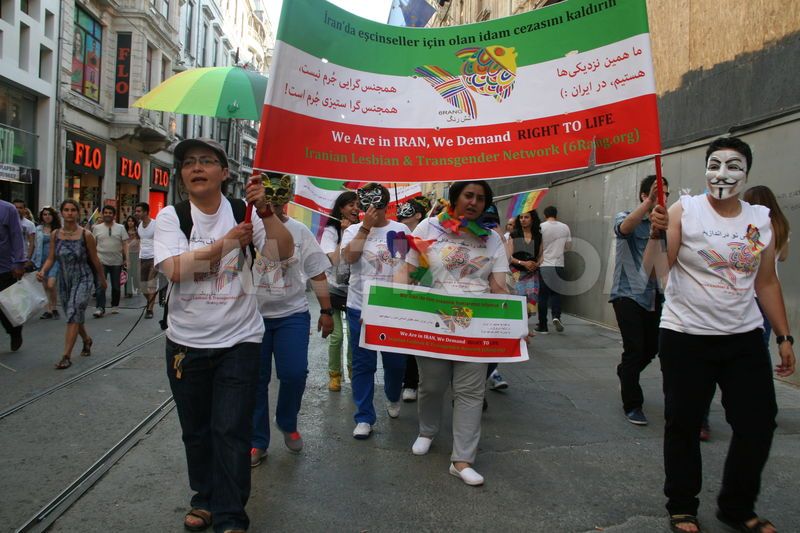 No to Forced Sex Change
In 2012-2015, 6Rang conducted its first in depth research project entitled 'No to Forced Sex Change' in collaboration with Justice for Iran (JFI), a like-minded NGO dedicated to the eradication of culture of impunity in Iran. During that project, we carried out more than 100 in-depth interviews with members of Iranian LGBT community and produced several documents including an English research report.
On June 26, 2014, in a historic occasion a coalition of Iranian LGBT rights activists, human rights campaigners and refugees will join Istanbul LGBT pride to launch the report Pathologizing Identities, Paralyzing Bodies: Human Rights Violations against Lesbian, Gay and Transgender People in  Iran[1] which analyses these abusive practices through a human rights framework by placing them in the wider context of violence and discrimination that shapes the lives of sexual and gender minorities in Iran.
Under Iran's Islamic Penal Code, consensual same-sex sexual relations between adults carry flogging and the death penalty while transgender expressions including cross-dressing may attract a punishment of 74 lashes and a fine. Transsexuality is, however, recognized as a Gender Identity Disorder (GID) curable through sex reassignment surgeries, which were made legal in Iran after a 1986 fatwa by Ayatollah Khomeini, Iran's previous Supreme Leader. According to the findings of our research, as a result of this legal framework, lesbian, gay, bisexual and transgender (LGBT) individuals who do not conform to culturally approved models of femininity and masculinity have to choose between risking harassment, persecution, and arbitrary arrest and detention by police and paramilitary basij forces because of their actual or perceived homosexual orientation on the one hand, and seeking a diagnosis of GID with a view to undergoing sex reassignment procedures on the other. Medical professionals frequently lead LGBT individuals to choose the latter course, which accounts for Iran having one of the highest numbers of sex reassignment surgeries in the world.
Lacking access to information about sexual orientation and gender identity and fearing laws criminalizing any positive speech about homosexuality, medical professionals frequently assign a diagnosis of GID to LGBT individuals merely on account of their same-sex desires and gender non-conformity. They then nudge LGBT individuals to either receive reparative therapies (including electroshock therapy and psychoactive medications) aimed at "curing" them of homosexuality or undergo sterilization and genital reassignment surgeries (GRS) aimed at turning them into "normally gendered" men or women. These abusive practices are taking place at the instigation of or with the consent or acquiescence of Iranian officials. In March 2013, Mohamamd Javad Larijani, the head of Iran's Human Rights Commission, for example called homosexuality "an illness" for which "people must be put under psychiatric care and sometime even biological and physical care."
6Rang have documented the accounts of dozens of LGBT individuals who have been prescribed reparative treatments without being given accurate and complete information whether about the risks, benefits, efficacy and scientific validity of such procedures or about issues relating to sexuality and gender diversity. 6Rang has further documented the plight of transgender individuals who are unable to obtain identity documents reflecting their gender and therefore enjoy their civil, political, economic and social rights until they complete mandatory sterilization and GRS.
The report, 'Pathologizing Identities, Paralyzing Bodies' and its findings were has had a huge impact on international community and consequently, Iran. For instance, in the last Universal Periodic Review (UPR) on Iran which took place in October 2014, in the UN Human Rights Council, due to 6Rang's successful advocacy, Iran received 12 recommendations on SOGI issues which addressed the coerced and forced sterilisation and reassignment surgeries. Surprisingly, Islamic Republic of Iran has acknowledged ill-treatment and torture of the LGBT community and accepted to make states sterilization, sex change operations and reparative therapies that are either forced or coerced due to absence of a free and informed decision-making process, illegal.[2]
[1]http://6rang.org/english/wp-content/uploads/2014/06/Pathologizing-Identities-Paralyzing-Bodies.pdf
[2] For further information, please see: Iran indicates a move toward ending anti-LGBT torture, available at: http://6rang.org/english/2222
https://6rang.org/english/wp-content/uploads/2015/07/post7.jpg
1080
1080
milad
https://6rang.org/english/wp-content/uploads/2020/11/logo-6rang-en.png
milad
2015-07-21 00:44:08
2020-11-16 05:09:42
A glance at Iranian Lesbian and Transgender Network (6Rang)