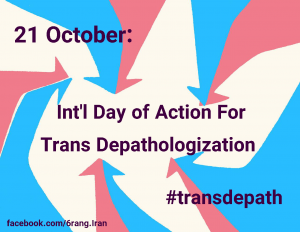 October 21st is the International  Day of Action For Trans Depathologization. Mohsen is one of the many transgender people in Iran who not only undergo forced sterilization, but suffer humiliating physical examinations afterwards, only to find out they are denied the right to identity.
"Transgender people in Iran cannot obtain legal recognition of their gender unless they undergo sex reassignment surgeries and irreversible sterilization. This entails the removal of breasts (mastectomy), uterus (hysterectomy), ovaries (oophorectomy) and fallopian tubes (salpingectomy) for female-to-male candidates, and testicles (orchiectomy) and penis (penectomy) for male-to-female candidates. Since the kind of surgical treatments required for legal gender recognition are not codified in law, courts sometimes require additional procedures such as the creation of a neo-phallus (phalloplasty) and testicular implant surgeries. Mohsen is a female-to-male transsexual who was denied legal gender recognition because he failed to receive phalloplasty. He wrote on the blog Trans-e Gomnam:
The judge reviewing my case sent me to the Legal Medicine Organization for a physical examination. I went to the branch that was located in Vanaq Square. Over there, two men and five women examined me. First, they inspected my beard and asked how long I have had it. They then turned to my breasts. Luckily Dr. Oskooyi had done a good job on my breasts and they thought I had never operated on them and they were always so flat. I was then sent to Imam Khomeini Hospital to get them the entire file on my uterus and ovaries removal operation.
I did, and when I returned, they asked me to pull down my pants to inspect my genitals. I asked if it was possible for them to not go through with this inspection, but they refused, indicating that if I did not cooperate they would refuse to write me the required letter.
I pulled down my pants with embarrassment. They took a look and said in a disappointed voice that my genitals are womanly. They then asked me to leave the room and pick up my letter downstairs. I tried to explain to them why I was not yet in a position to receive a genital reassignment surgery but they were much too cruel to pay my explanations any heed.
I took the sealed letter they gave me to the court. It felt like a hundred pound sledge struck my head when I realized what the letter said. It read, "Mastectomy, hysterectomy and oophorectomy have been completed but the sex organ is still feminine in appearance."
There was no mention of how large my clitoris had grown. The judge ruled that all the required steps for sex reassignment have not been satisfied and new identification documents would not be issued."
Read his stories in the video below:
Category: Reports, اطلاعیه های 6 رنگ, ترنس جندر, خبرها, رویدادهای ایران, رویدادهای جهان, چندرسانه‌ای, گزارش و فعالیت‌ها